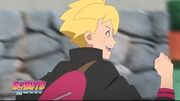 To begin with, Wednesday was the premiere of the long anticipated Boruto Anime. Continuing the legacy of Naruto and Naruto Shippuden, Boruto Episode met expectations and more. However, this article isn't about episode 1, I'm going to be discussing Episode 2 !
I will now provide an exclusive summary of Episode 2 of Boruto titled, "Hokage's Son." Apart form the preview, episode 2 will entail Boruto's first day of the Konoha Academy following the entrance he made in episode 1. Boruto finds himself picking a fight with a student named, Iwabe Yuino. Iwabe is described as a student that was held back a year due to his bad behavior.
Iwabe is the character form the preview with the staff/rod weapon and head scarf. He also seems to be the tallest of the academy seeing as how he is 1 year older than Boruto's generation. Of course, Denki will also be making his appearance just like from the last episode. And he will be around Boruto as long as possible until they finally decided to have Mitsuki transfer into the academy.
If you remember, Mitsuki was identified as a shinobi form another land that was transferred, even though we know he is the son of Orochimaru, a synthetic human son. Apart form that, thats all the information I could gather about episode 2. There will be more, however the episode will mainly deal with Boruto's bickering with Iwabe.
Are you excited for Boruto? If so let us know in the comment below with what you're looking forward to the most! With that said please let us know what you think in the comments below! I hope you all enjoyed the article!