Taku Tsumugi (紡木たく) is a manga artist from Yokohama. Her work drew Hot Road and My Gardener. She was born in August 2, 1964 in Yokohama, Kanagawa, Japan.
Taku became a manga artist
Her first manga as a professional illustrator in 1982, she published the short story Machibito in the manga magazine Margaret Bessatsu , which - just like Margaret - at Shueisha Publishing and will be aimed at girls between 13 and 18 years. After a few more short stories published 1984-1986 and collected in the form of a paperback book, she recorded in 1985 with Tsukue stage where ni her first ongoing series. Comprising from August to November 1985, Margaret published in Bessatsu Series 200 pages.
The breakthrough came in 1986 with Tsumugi Hot Road . In it she talks about the high school student Kazuki who falls in love with the young leader of a motorcycle gang. Which also appeared in Bessatsu Margaret, 800 pages long manga series in Japan was very successful commercially. With a circulation of seven million copies in four volumes, Hot Road was one of the most successful Shōjo manga of the 1980s. The next work was the author of Matataki Mon sezu Kayoko, who lives in a small town and finds her first love.
In 1995, she recorded no further until more manga in December 2007 with My Gardener for 12 years back published a new volume of her. In the meantime, her works were published in Japan constantly and there were still popular.
The characters of her works, which are all aimed at girls and thus assign the Shōjo-talk genre, mostly dialect. Landscapes and white areas are popular means of representation of the artist. The band signed Masanao Amano Manga style: "Tsumugi can represent graphically how emotions are so strong that the reality is before our eyes no longer make sense."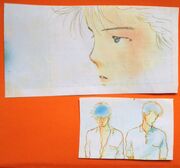 Links