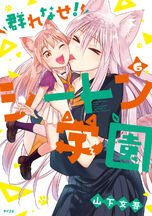 This article is about the media franchise. For the title character, see
Murenase! Shiiton Gakuen (character)
. For other uses, see
Murenase! Shiiton Gakuen (disambiguation)
.
---
Seton Academy, a school full of animals where, thanks to population decline, there are fewer humans than any other creature. Mazama Jin, an animal hater and the only human male in his class, falls in love with Hino Hitomi, the only female human, the moment he lays eyes on her. However he soon finds himself entangled with various other creatures after he reluctantly joins the 'pack' of Lanka the wolf, the only other member of her pack.
Character
Human
Create cooking club for add more friend
Cooking Club
Miki suspect the club are harem for Jin. Cooking activity just a cover
Ozami Lanka (wolf) Female ♀
leader of pack. She was meet Jin during child and she don't know Jin was the person who inspired him into seach for pack.
Komori Yukari (Koala) Female ♀
he join club because she searching the food he like when she is baby. Have a great grip and able to destroy bear trap
Shishio Miyubi (sloth) Female ♀
very slow character. She always dead but revive after that. To walk everywhere, Hino always carry him on the bag
Nekomai Kurmi (cat) Female ♀
she just like sleep everywhere. Walking to the club to make the club into sleep club. She bring his friend not to join the club, but to sleep on the club.
Donkey Pack
Mashima Chloe (Zebra) Female ♀
at first, she was thinking his place were on horse pack. But Jin show she wasn't. He trick Lanka and make her slave. But Jin counter him and make him deserted from horse pack. After a while she join Donkey pack.
With her new pack, she discover her talent. But she still hate Jin, even she have a corner place in cooking club. After that, Jin seem acknowledge her and pack inside the club.
Her Friend ask again to join horse pack. But she refuse and return to donkey pack.
Teacher
Terano Gigas (T-rex) Male ♂
School mate
Hadano Miki (naked mole rat) Female ♀
Others
Okami Ferryl (wolf) Female ♀
Lanka Big Sister, lonely after Lanka leave.
Kuromori Wolf (wold) Male ♂
References
External links