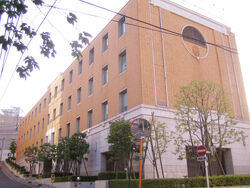 Kadokawa Shoten Publishing Co., Ltd. (株式会社角川書店 Kabushiki-gaisha Kadokawa Shoten) (TYO: 9477) is a well-known Japanese publisher, based in Tokyo. Kadokawa has published many manga titles as well as magazines, such as Newtype. In recent years, it has expanded into the multimedia sector (namely video games) and movies (Kadokawa Pictures).
Magazines published
Manga titles published
Published
Developed
See also
External links
File:Commons-logo.svg
Wikimedia Commons has media related to [[commons: Category:Kadokawa Shoten

| Kadokawa Shoten

]].